How to Have an Unforgettable Camping Experience
By XGIMI Tech - 2022-04
Introduction
Camping is a great recreational idea, offering a getaway opportunity from the bustling city life. From camping farms to mountain lookouts, a night in the outdoors and other camping experiences have a comfortable feel sprinkled all over them. Board games and hiking are quite popular camping activities, and you can make it more fun by bringing bicycles along. Going on a boat cruise with friends and watching movies around a campfire also sound interesting, and smart camping projectors can make a camping movie night memorable.
Portable camping projectors have excellent features that make a movie night worth it. You can bring your favorite digital content from your home to a tent in the woods and still enjoy a camping movie theater with great sound and display. They are easy to move around, generally lightweight, and some can support offline viewing. This article explores suggestions for having an excellent camping trip experience (choosing a great spot, supplies, and activities), making your camping movie night unforgettable, and the best camping projectors.
How Can Camping Activities and Other Factors Influence Your Adventure?
Anyone can decide to go on a camping trip, yet without adequate planning and ideas on activities suited to your personality, your trip could leave a not-so-sweet taste in the mouth. Imagine forgetting to pack some essential supplies or planning a board game activity with the family and leaving the game behind. For an unforgettable camping trip, here are a few factors you would need to decide on:
What Are The Ideal Locations For Camping?
Where you choose to go camping will influence the eventual experience immensely. If you favor peace, far away from the bustle of the city, you will have to settle for options that suit that description, like secluded camping spots in the mountains, at private lakes, etc. If you only want a getaway but remain close to the action, you can choose a less-secluded resort or a facility that offers camping resources and activities.
Which Camping Supplies Do You Need?
Depending on the location, you will need essentials for an ideal camping trip. The outdoors has its hazards like cold, and going on a camping holiday without essential supplies may lead to discomfort and exposure to harsh conditions. Here are a few things you may need to pack depending on the nature of your trip:
Sleeping bags and pads

Tent

Pillows for added comfort

Backpacks come in handy when hiking

Hiking boots

Headlamps and flashlights – light sources may be limited on campgrounds

Water

Sunscreen

Jackets – for chilly nights

Meals or snacks – canned foods will also be easier to pack

Cooking tools and utensils like pots, stove, and fuel
Which Fun Camping Activities Can You Partake In?
Having a plan for camping activities beforehand also plays an important role in making the trip memorable. Deciding beforehand helps you prepare adequately, pack the needed items for each activity, and help everyone on the trip to know what to expect. Some entertaining camping activities include:
Board games like chess, scrabble, etc

Hiking

Swimming

Boat rides

Movie night – you can watch your favorite movies while camping with a portable camping projector

Cycling
Do You Need Camping Projectors To Create Memorable Movie Nights?
The short answer is yes!
A camping movie night is a fun activity suggestion, and smart portable projectors can deliver an excellent experience. They are easy to pack in a backpack. In addition, they have features suited to outdoor use like a built-in battery, internal storage for offline viewing, and powerful imaging features. Here are some features that the ideal camping projector should have for maximum performance:
Built-in Battery
Power sources may not be readily available in secluded camping spots. Portable camping projectors come with built-in batteries. The ideal battery life should be between two to four hours, sufficient for at least one movie.
Stress-free Setup
An ideal smart camping projector should have features that simplify setup immensely, saving time and effort for the user, like auto focus and auto keystone correction. With auto focus, the camping projector delivers a sharp and crisp display within seconds after powering on, and auto keystone correction ensures the projection is rectangular and ideal for immersive viewing.
Internal Storage
Wi-Fi may be unavailable in some camping locations, but ideal camping projectors come with ample internal storage for users to pre-download and save their favorite movies, music, or TV shows for later viewing.
Excellent Built-in Sound
Packing external speakers may not be ideal, especially when you factor in every other supply you also have to pack. The ideal smart portable projector should have excellent built-in speakers that can deliver great quality sound, eliminating the need for purchasing external speakers.
Resolution and Brightness
Projectors with excellent imaging capabilities can deliver an immersive experience during camping movie nights. A resolution of 1080p FHD is sufficient for a smooth and clear image, and brightness between 300 to 800 ANSI lumens is ideal for a bright image in nighttime camping conditions.
Portable Camping Projector Recommendations
XGIMI portable camping projectors boast amazing features to light up any camping experience. Users can enjoy a simplified setup, excellent sound quality, high-resolution displays, and ample internal storage, making their camping movie nights easy to set up and delivering an enjoyable experience. Here are the recommended XGIMI smart camping projectors that can ensure your camping movie night experience is unforgettable:
XGIMI Halo+

(1080p FHD Portable Projector)
Halo+ is an excellent camping projector. Easy to carry and pack, Halo+ packs several powerful features for awesome outdoor movie nights:
● Built-in Battery: XGIMI Halo+ has a 59W built-in battery that provides about two hours of playing time, sufficient to stream your favorite movies in places without available power sources.
● Brightness/Resolution: XGIMI Halo+ can project a max 200" display, with 60–120 inches recommended for maximum screen size–quality balance. Halo+ also has a with a brightness of 900 ANSI lumens, which delivers a well-illuminated display during a camping movie night. In addition, Halo+ can project in 1080p FHD resolution, delivering your favorite movies in a crystal-clear display.
● Harman Kardon Sound: The Harman Kardon brand is famous for excellent industry-grade sound, and Halo+ packs dual 5W built-in speakers from Harman Kardon, which produce rich and immersive HiFi sound to spice up outdoor movie nights.
● X-VUE 2.0 Image Engine: Halo+ also comes with XGIMI's X-VUE 2.0 Image Engine for color revivification. Users can watch their favorite movies with enhanced clarity, color detail, and rich, lifelike visuals.
● Hassle-free Setup: Halo+ helps users save time and effort during setup with the Intelligent Screen Adaptation Technology, which packs auto focus, intelligent obstacle avoidance, smart screen alignment, and auto keystone correction. With these automatic setup features, you only have to wait for a few seconds after turning on the projector to start enjoying their favorite movies, saving time and effort.
● Internal Storage: Halo+ runs on 2GB RAM and 16GB ROM, which provide sufficient storage space for you to download and save your preferred content for offline viewing in places where WiFi is unavailable.
You can learn more about the powerful features of Halo+ here.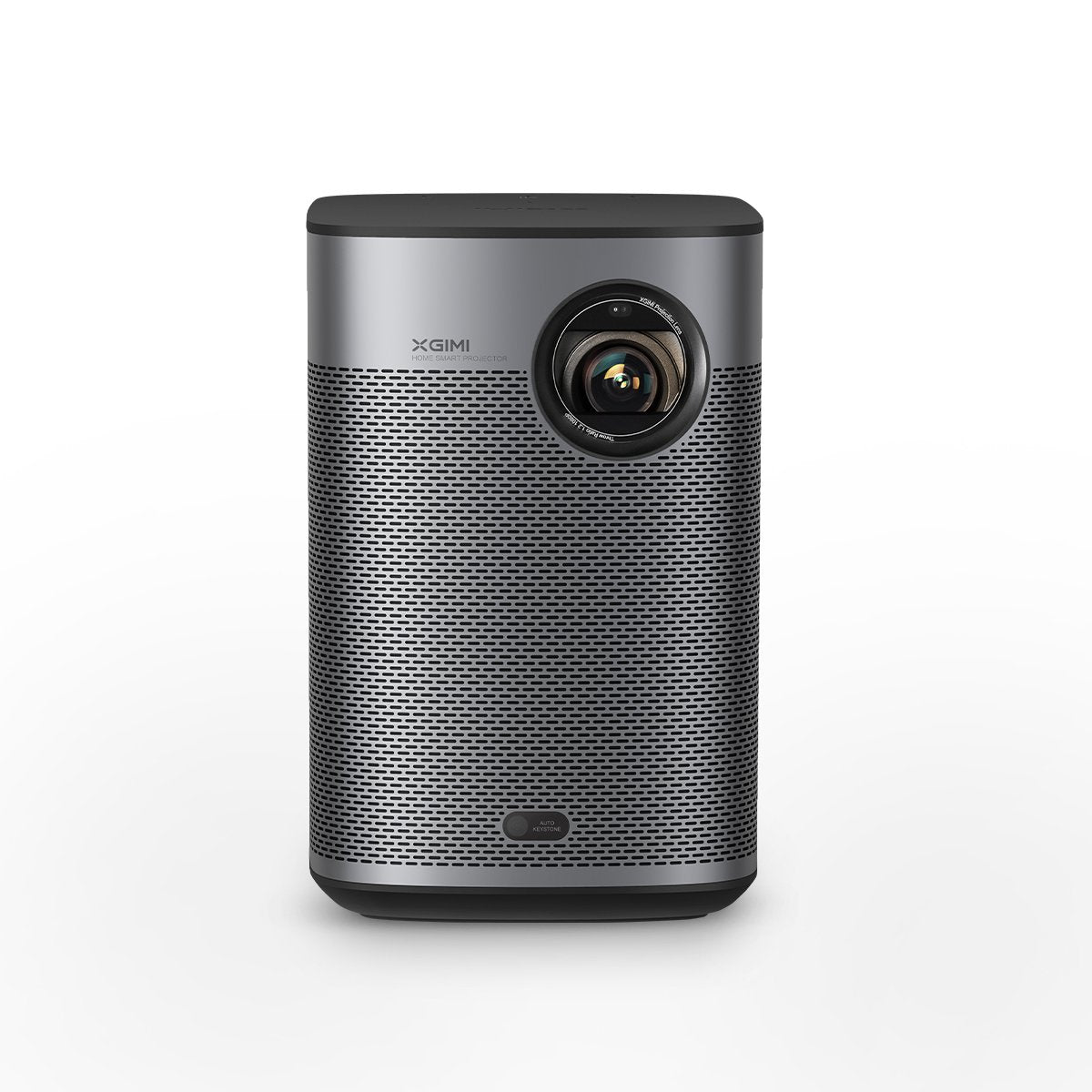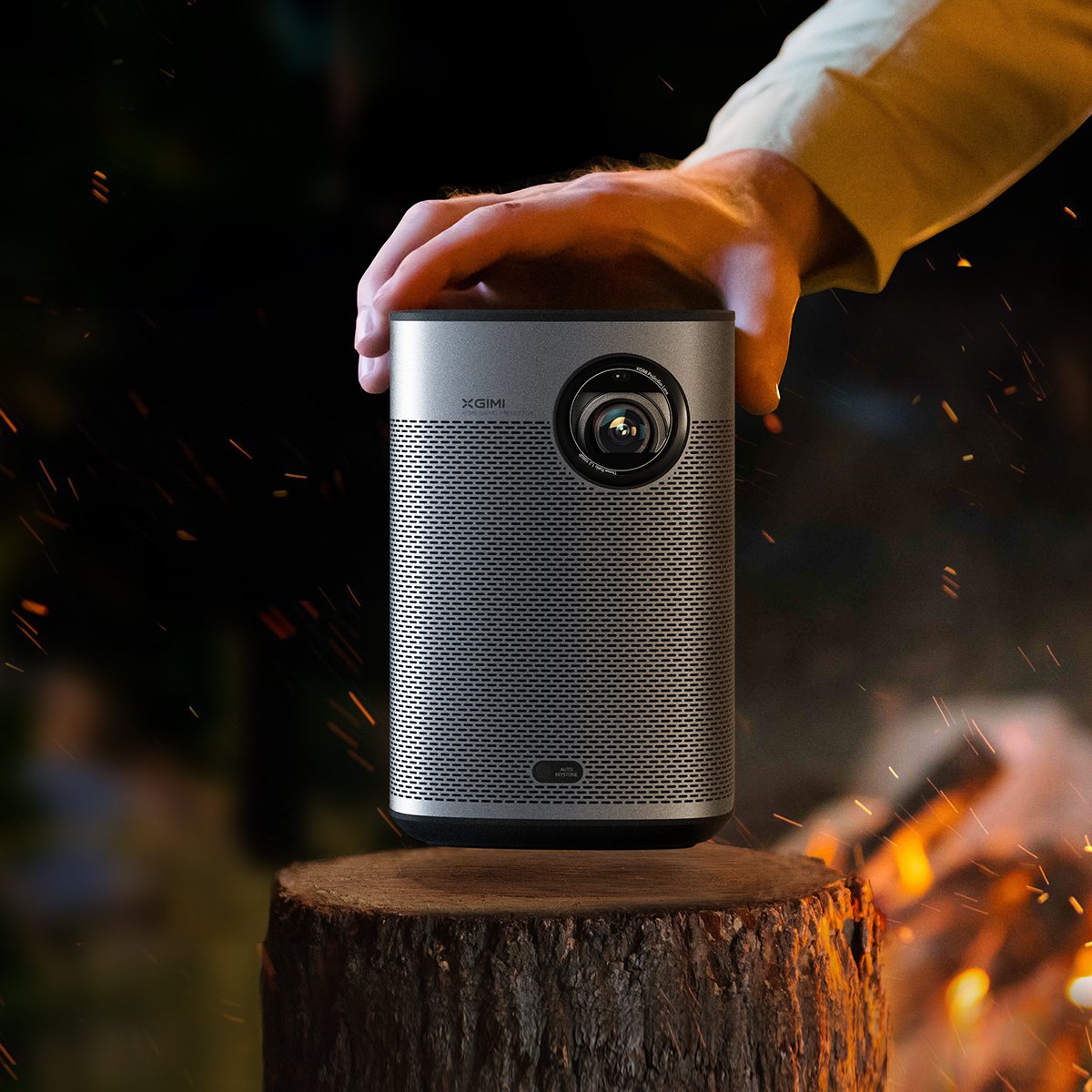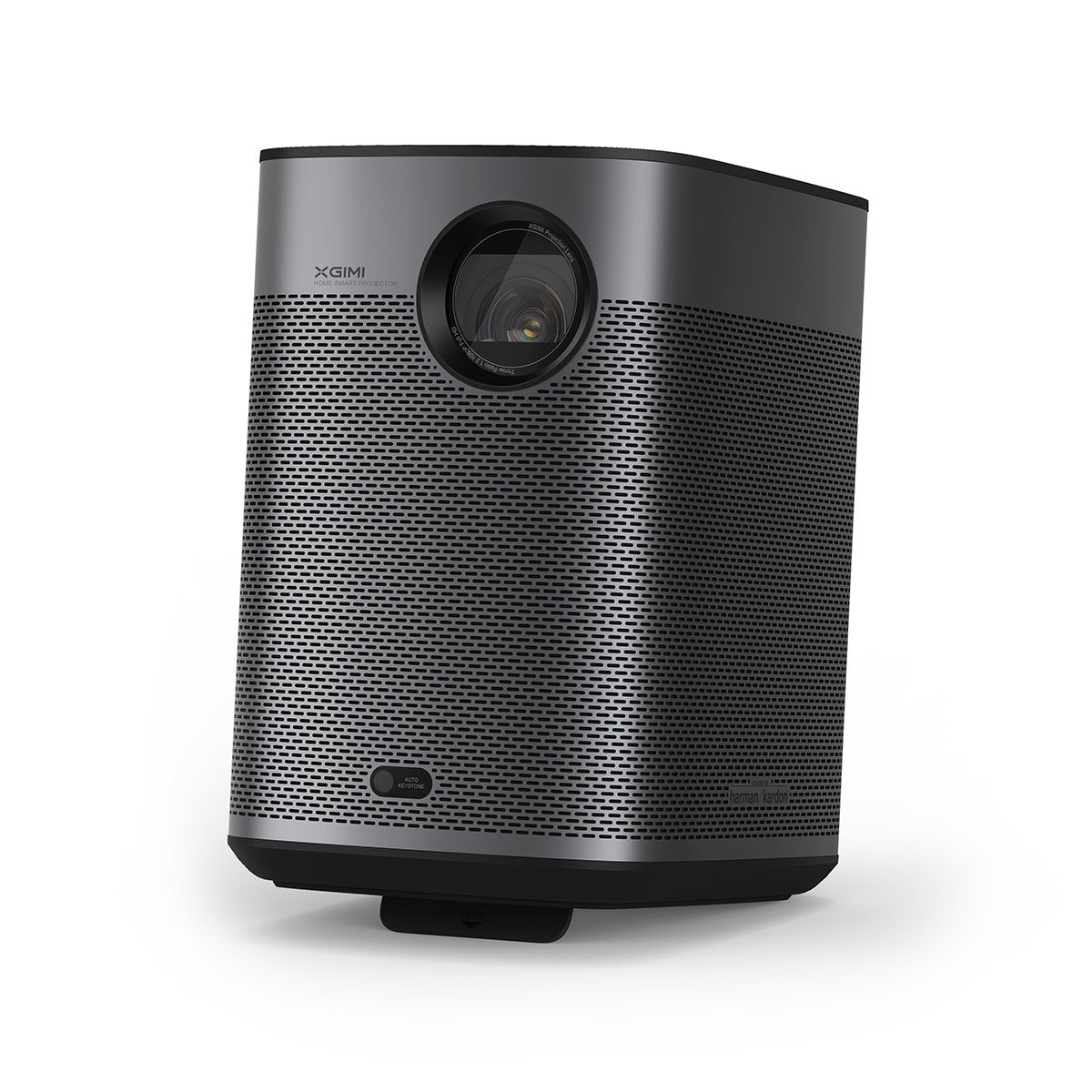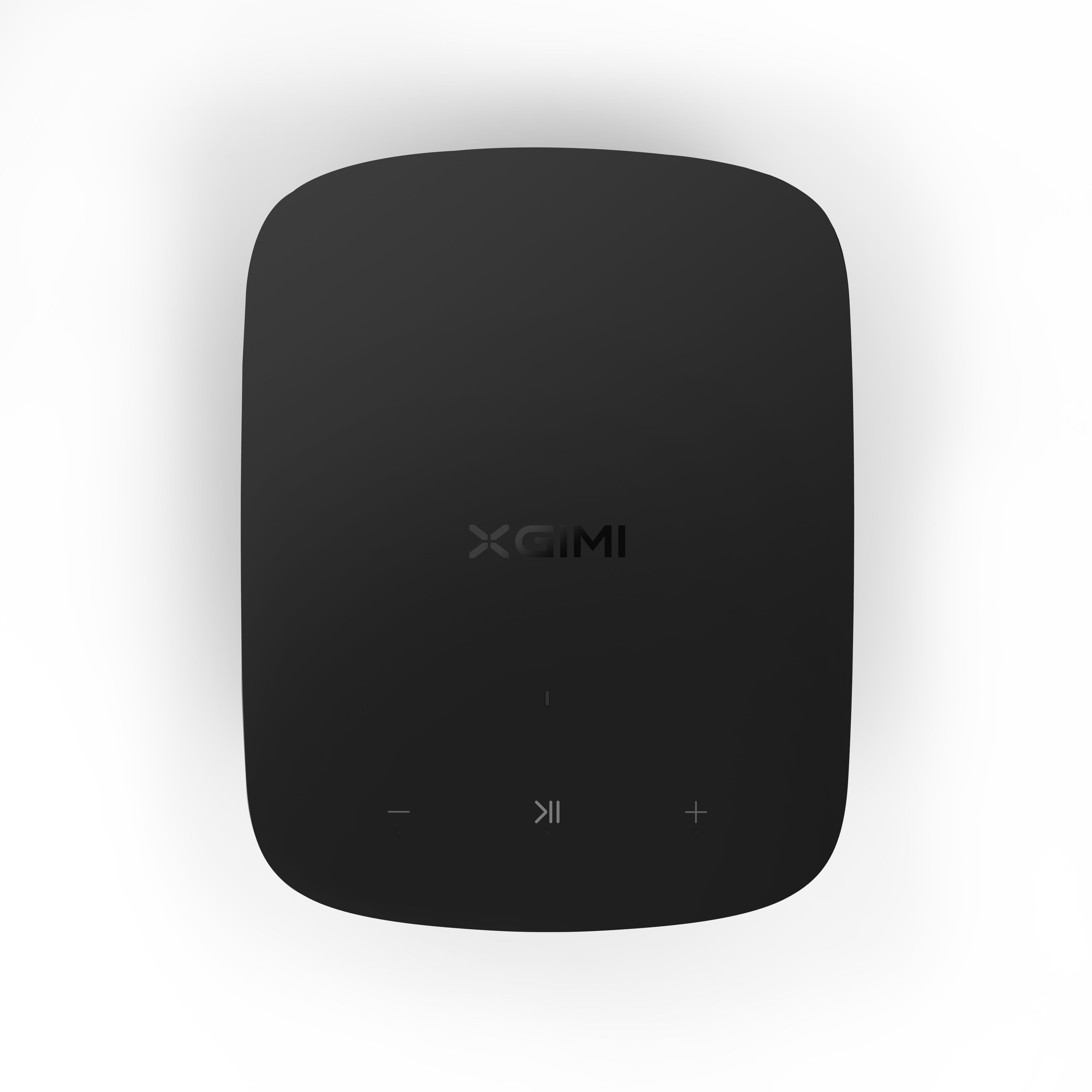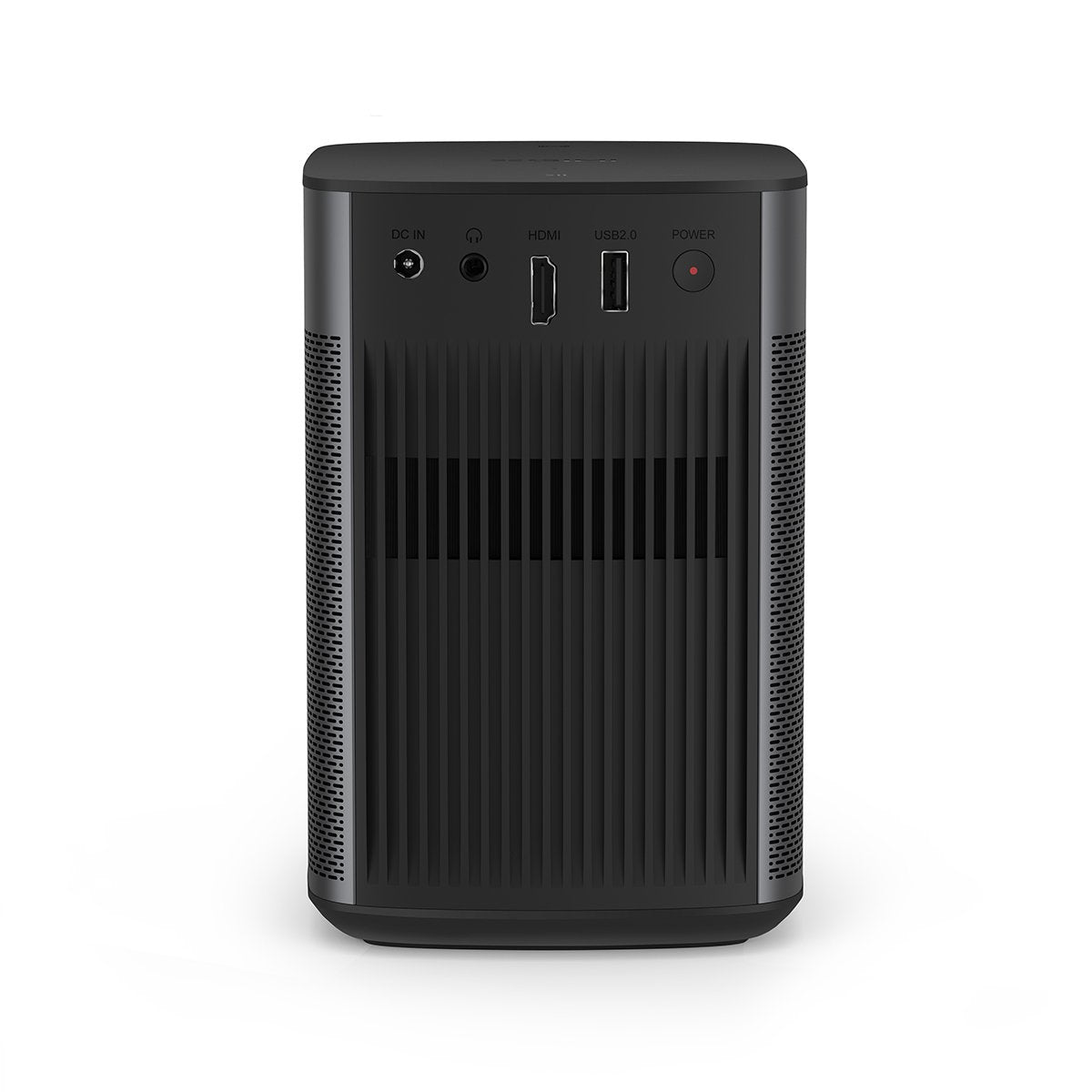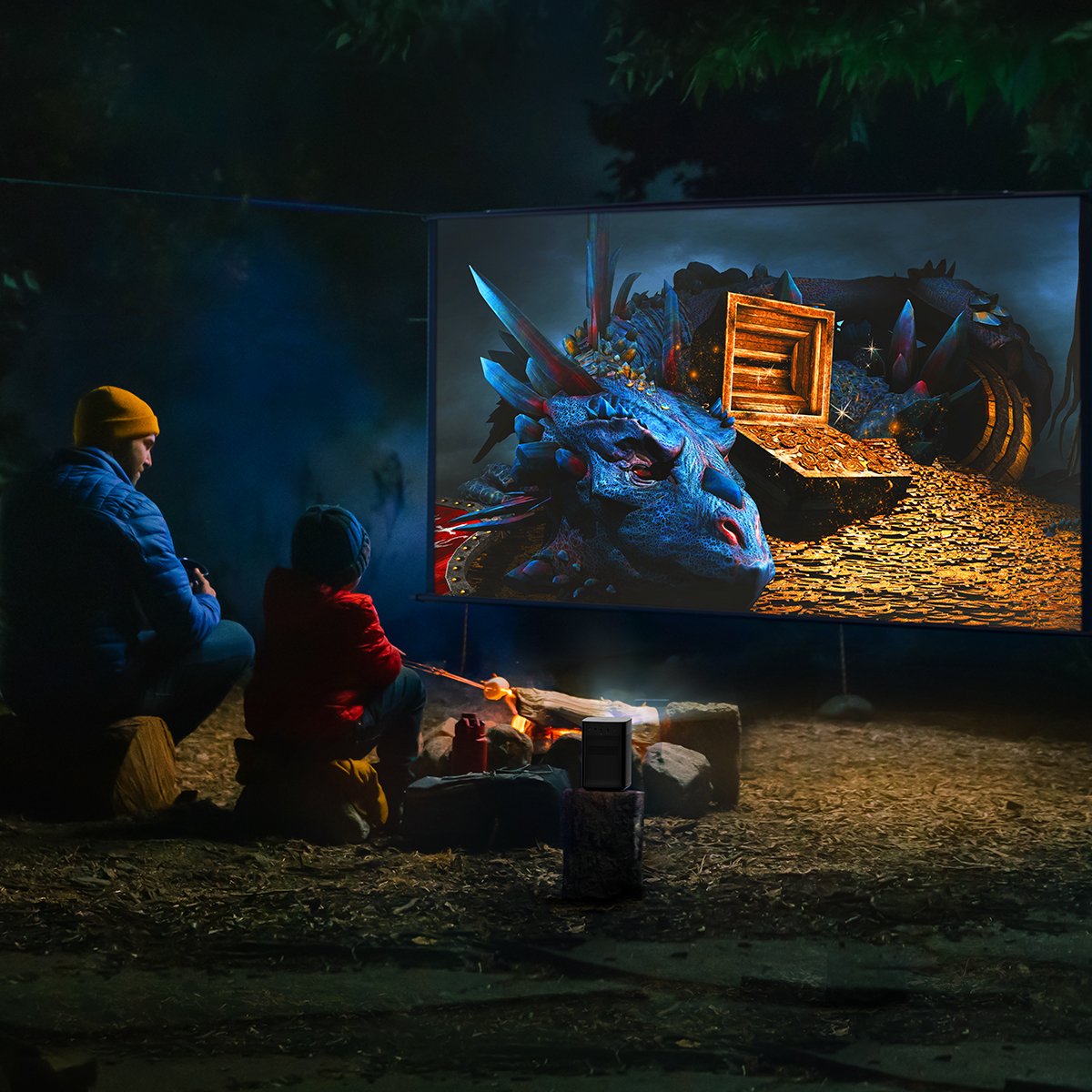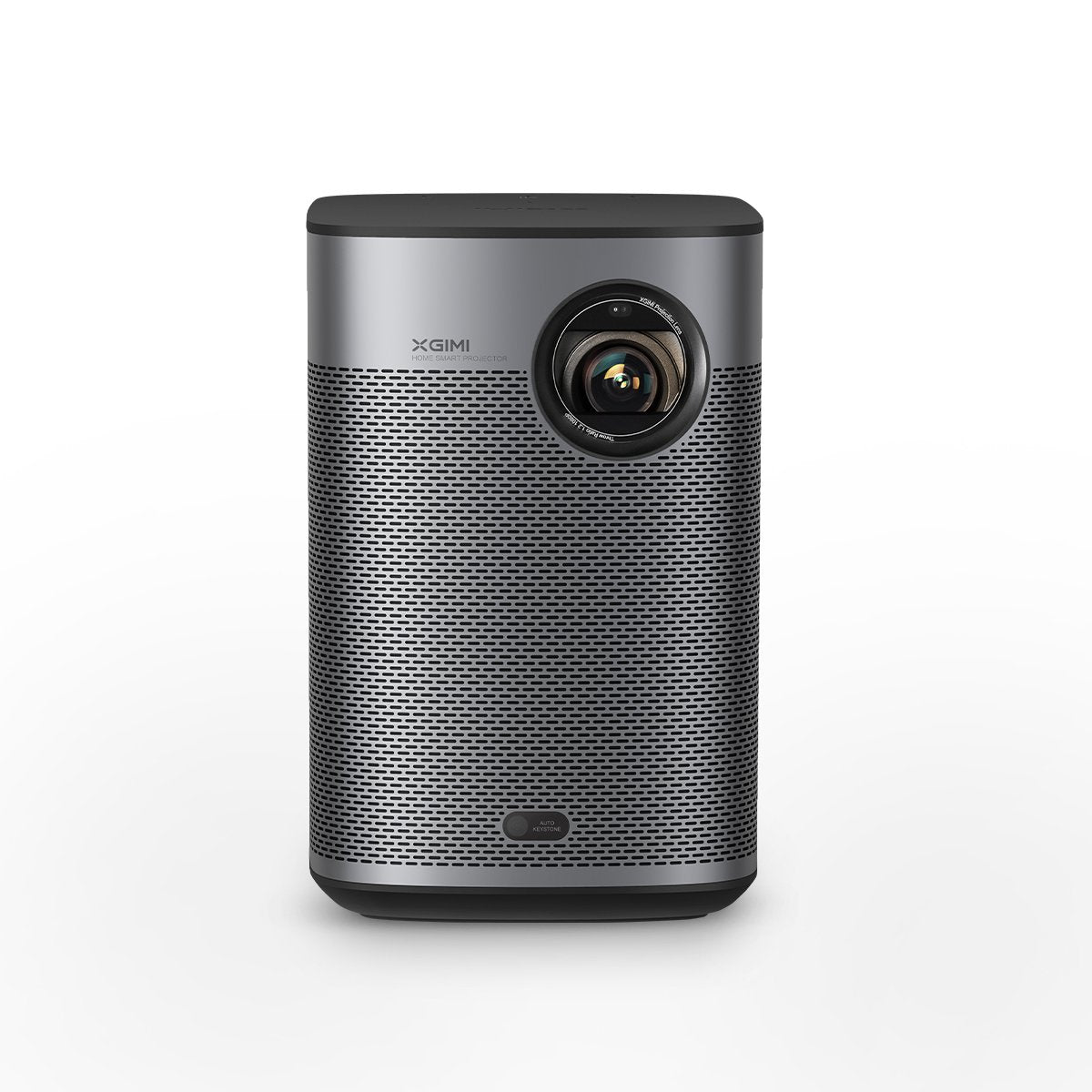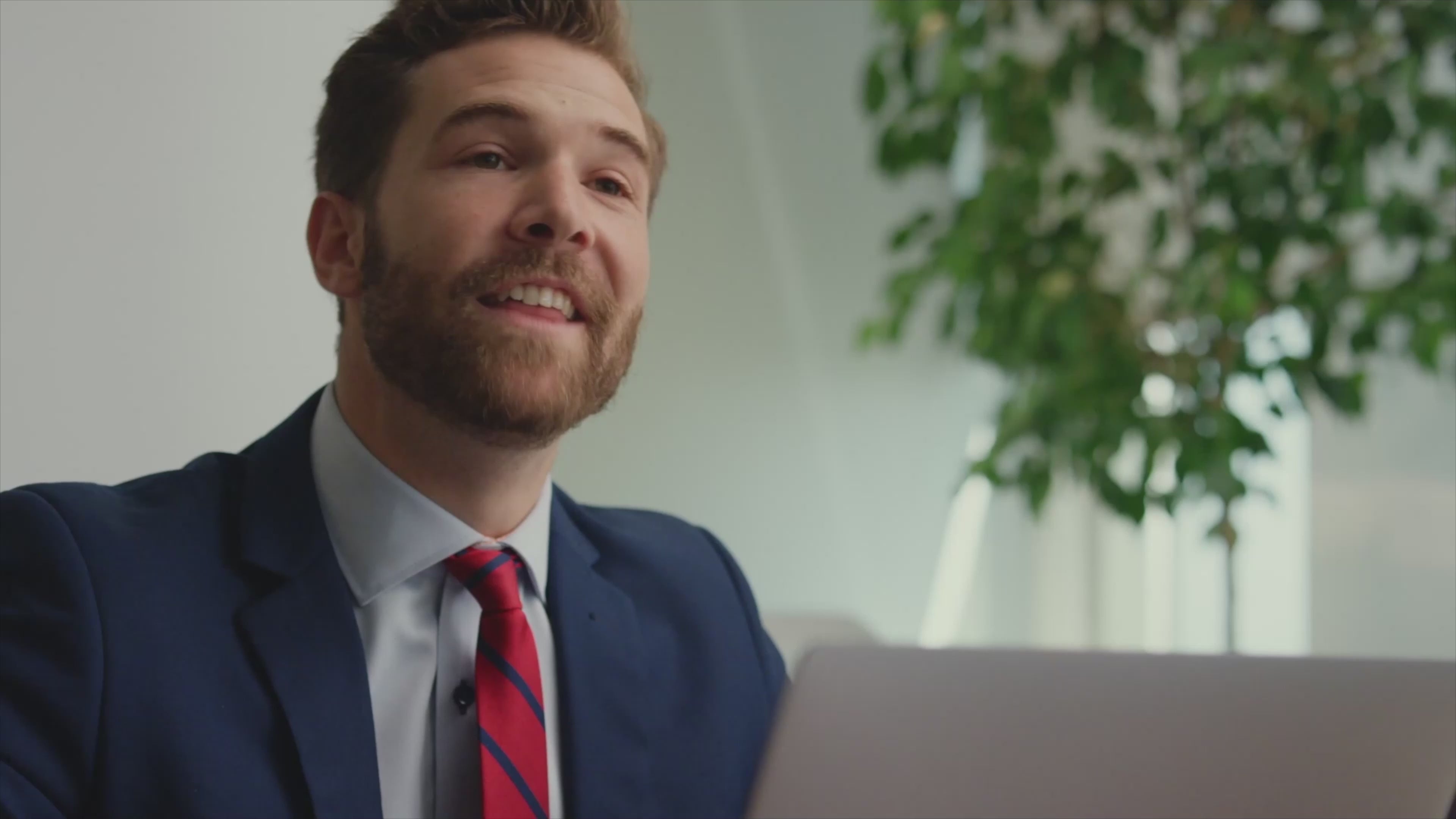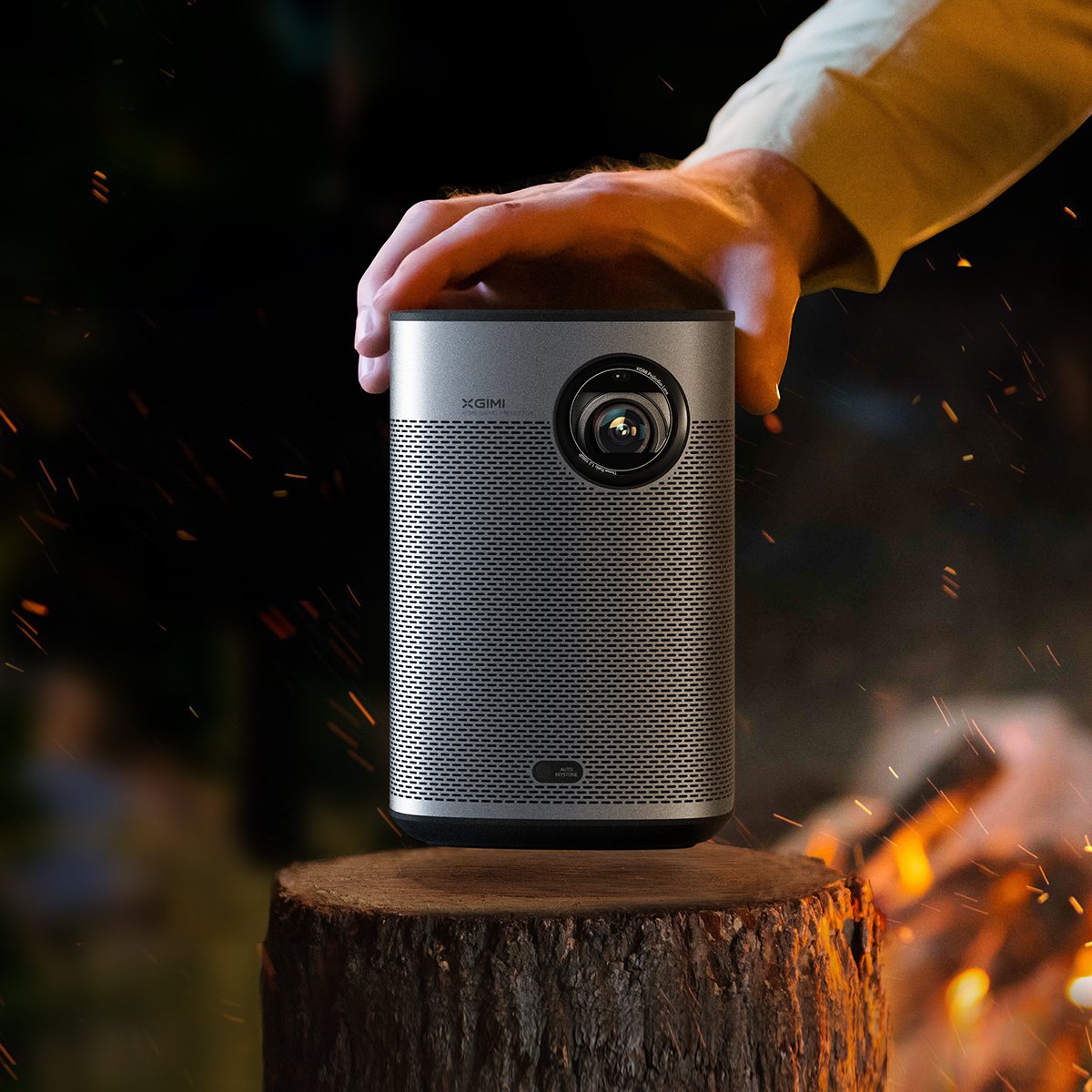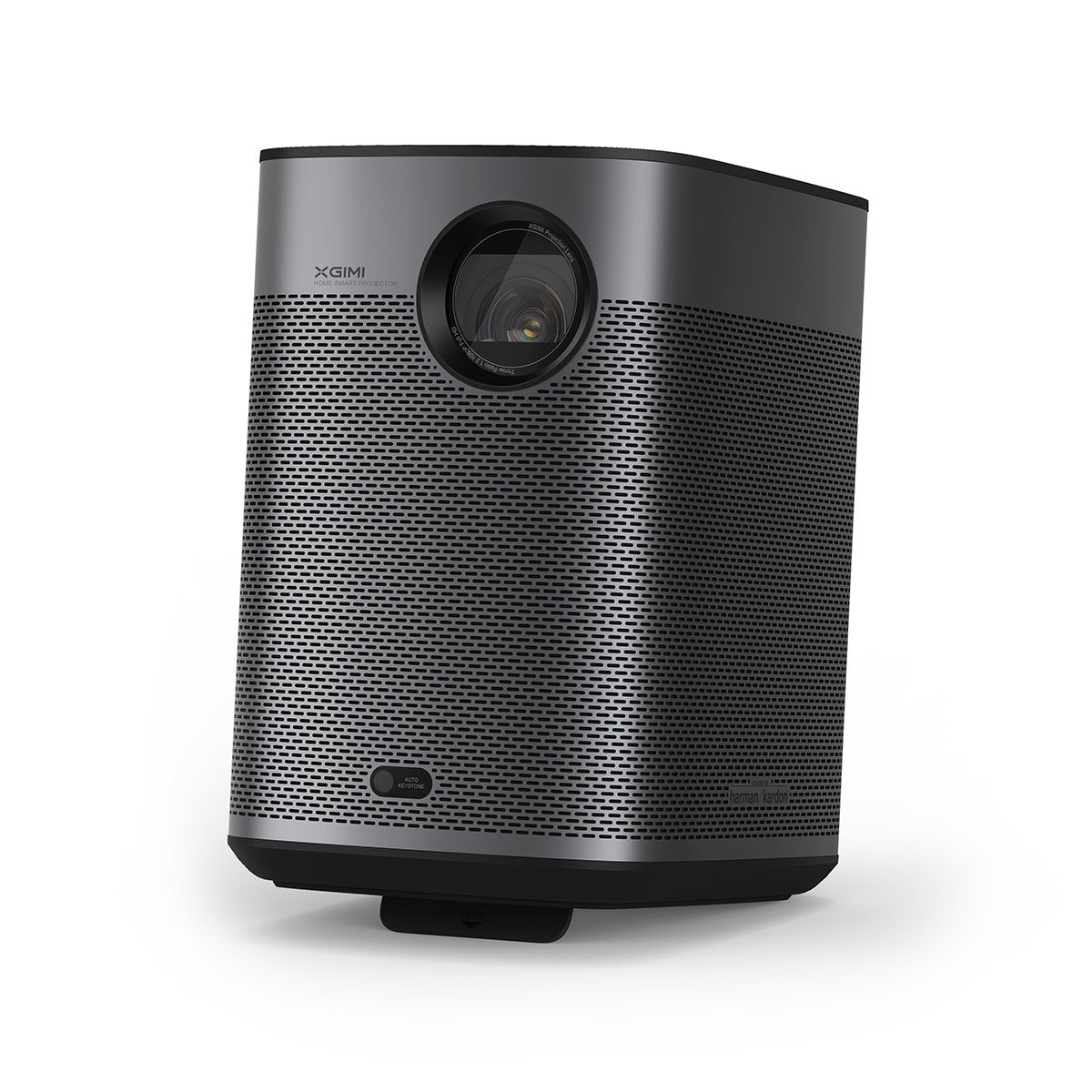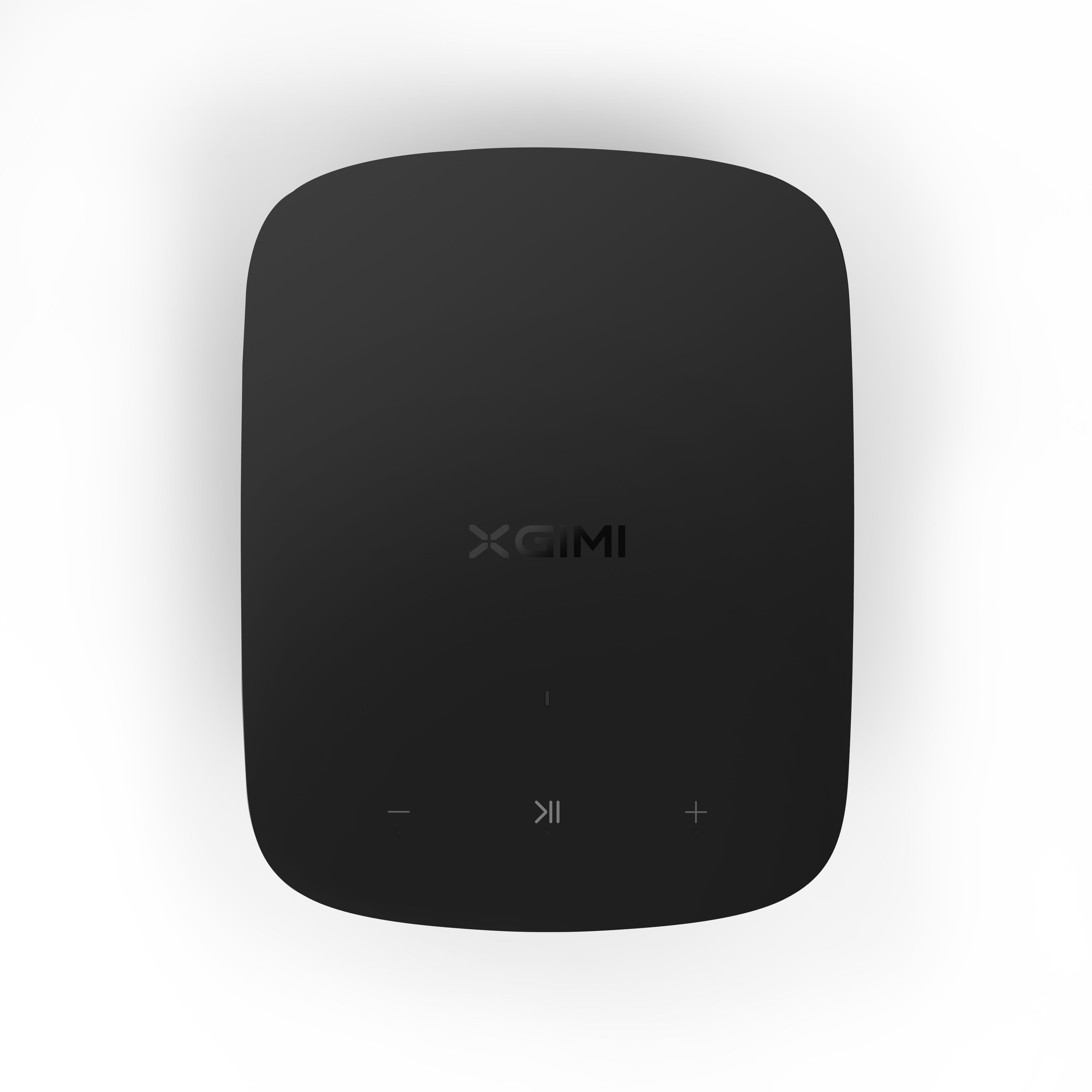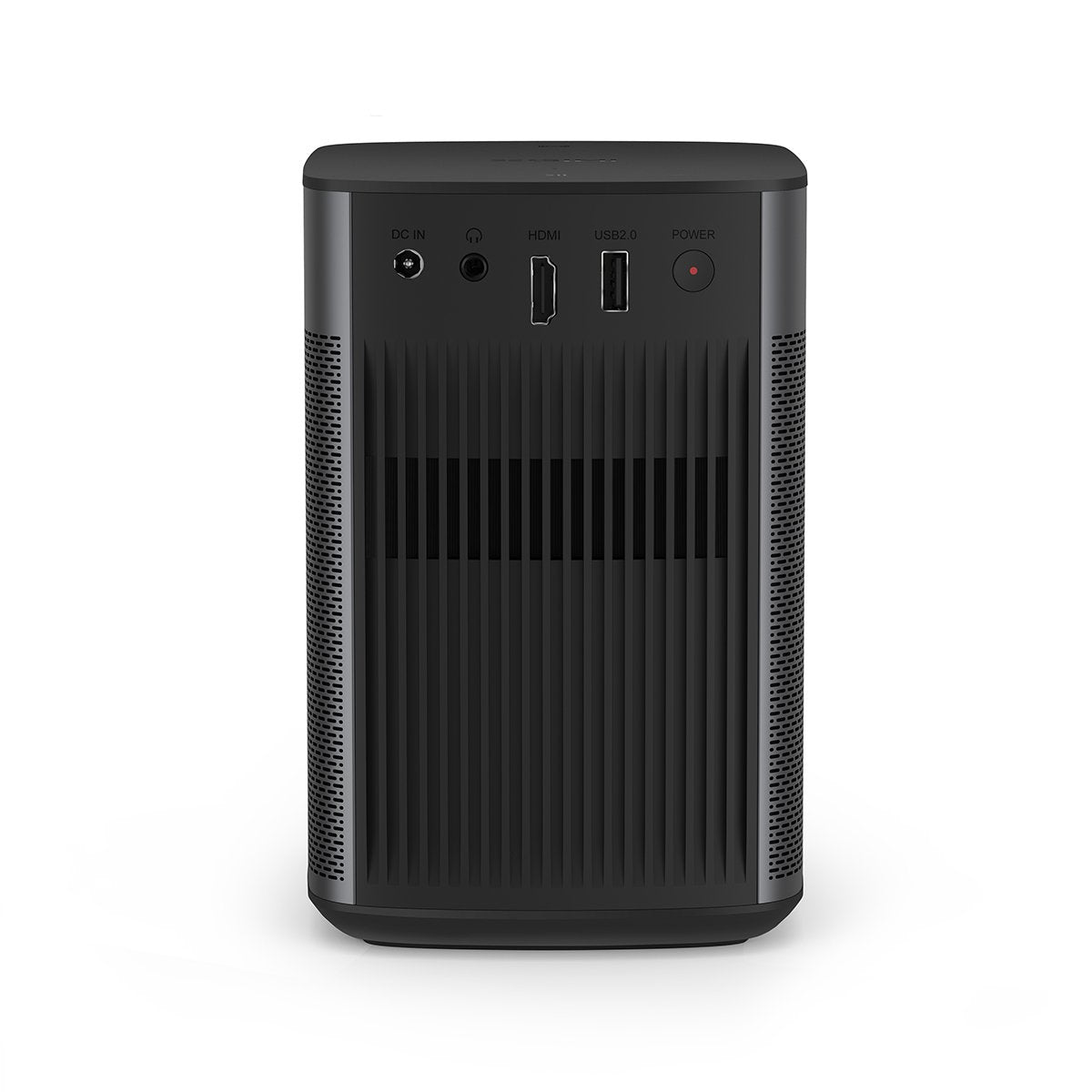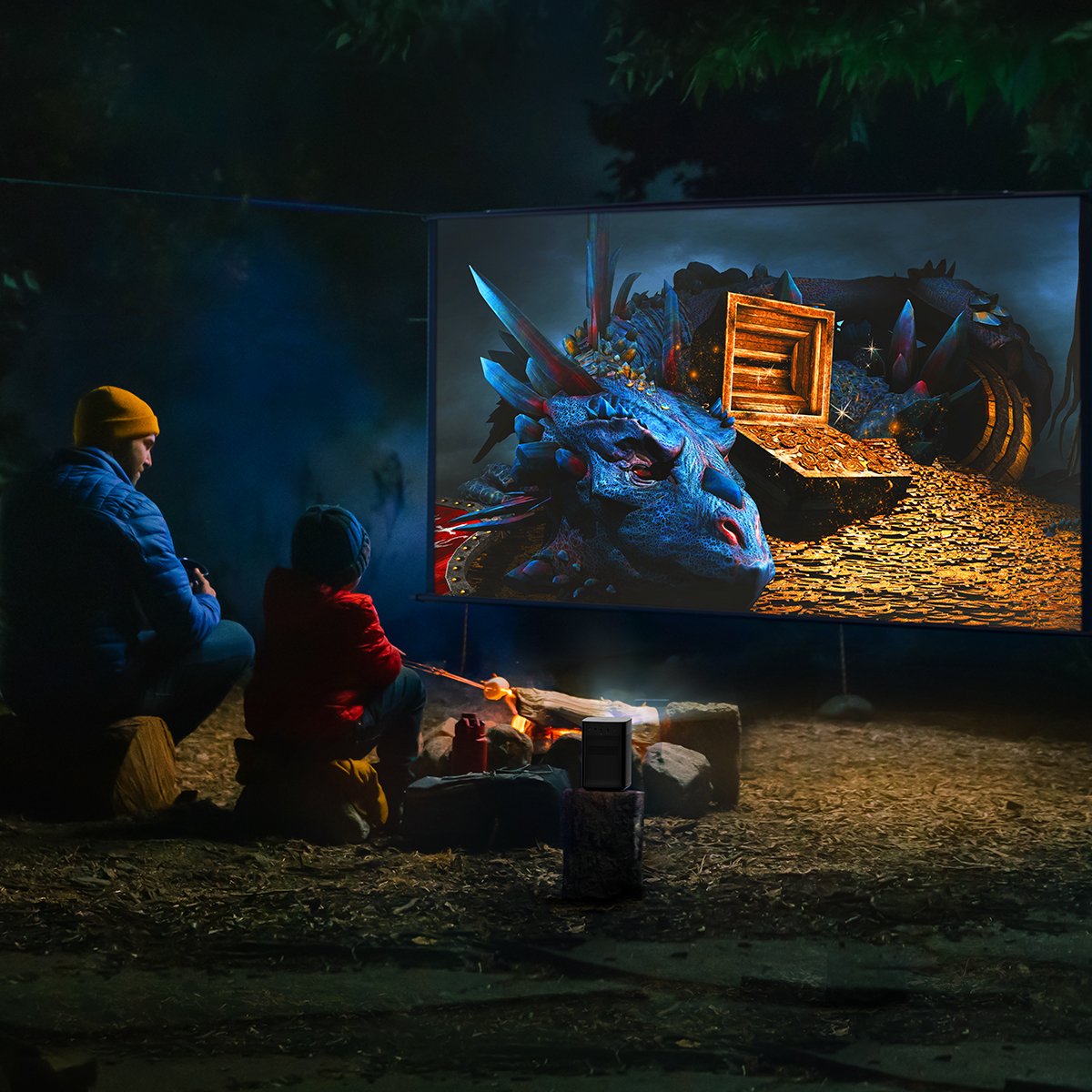 XGIMI MoGo Pro+

(1080p FHD Portable Projector)
MoGo Pro+ is another excellent XGIMI camping projector option with several powerful features for an ideal camping movie night experience.
● Built-in Battery: XGIMI MoGo Pro+ has a built-in battery that offers about 2 hours of playing time, enough for you to watch your favorite movies and TV shows.
● Internal Storage: MoGo Pro+ has an internal storage capacity of up to 2GB RAM and 16GB ROM, giving users sufficient space to save their favorite movies for offline viewing later. Pre-downloaded content comes in handy when WiFi is unavailable.
● Large Display: MoGo Pro+ can project up to 200 inches with the ideal range being 60-120 inches, providing a widescreen display from a handy device to ensure you can enjoy watching your preferred movies.
● Easy Setup: MoGo Pro+ has an auto focus feature that ensures the picture remains crisp even when the projector is tilted. Also, the portable camping projector has an auto keystone correction feature which delivers a rectangular image from any angle, correcting the angles even from side projection.
● 1080p Resolution: MoGo Pro+ supports a native resolution of 1080p FHD for a crystal-clear display with enhanced clarity and sharpness.
● Harman Kardon Sound: MoGo Pro+ packs dual built-in Harman Kardon speakers that produce rich and clear sound outdoors, making camping movie nights enjoyable.
Find more about XGIMI MoGo Pro+ here.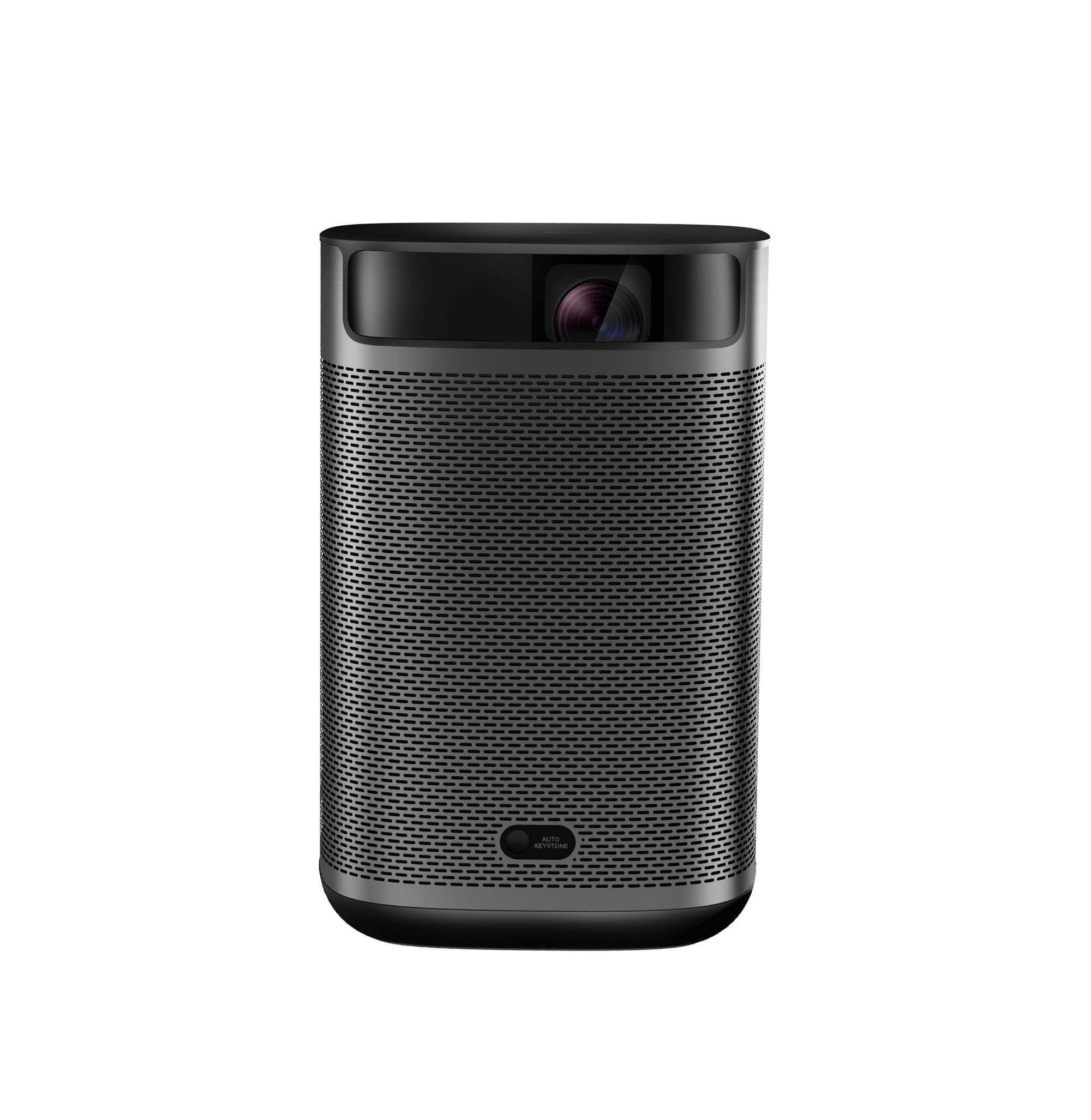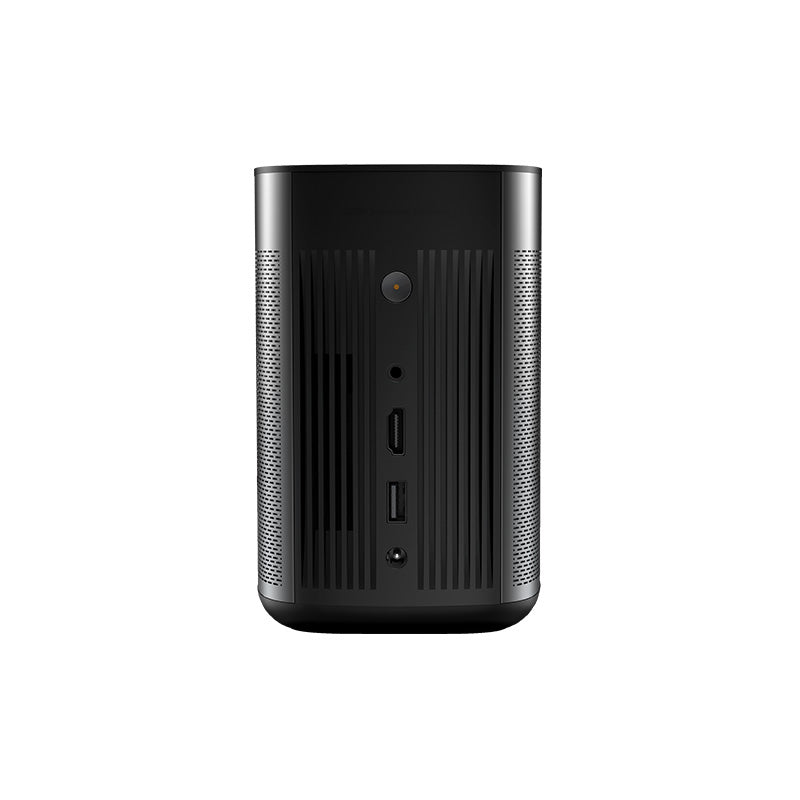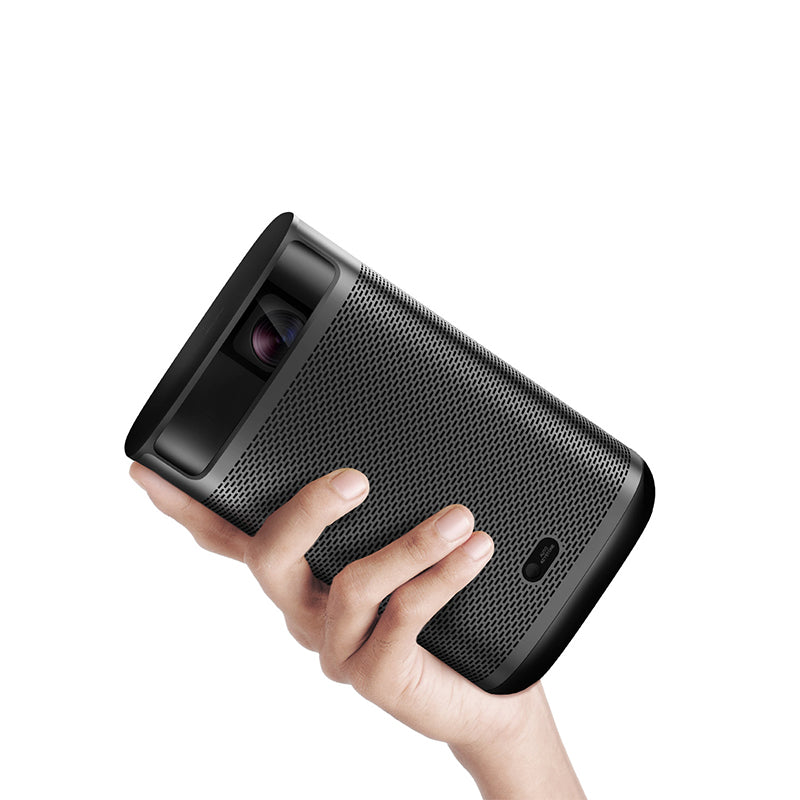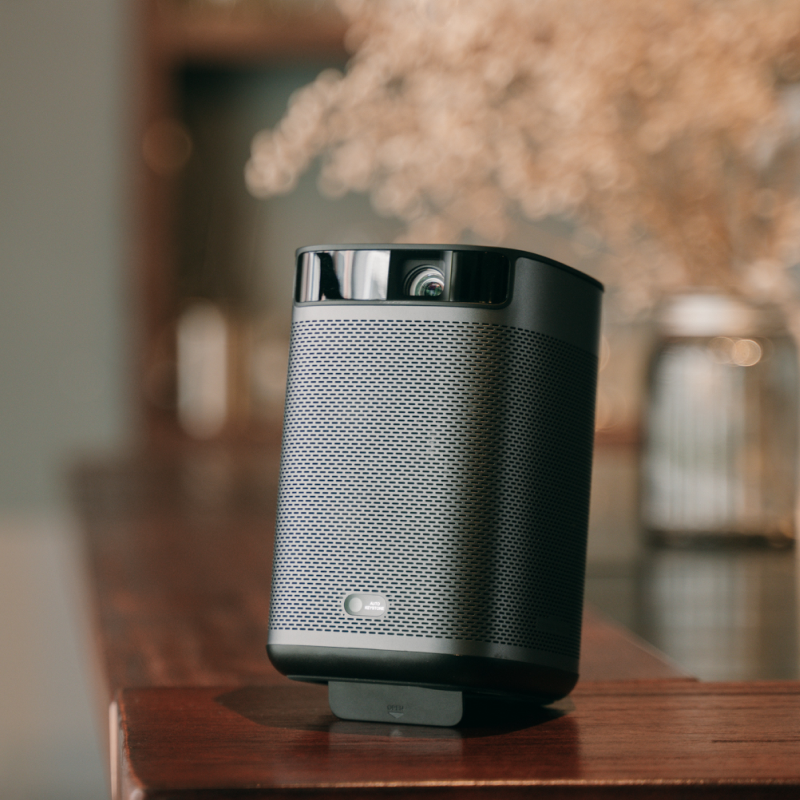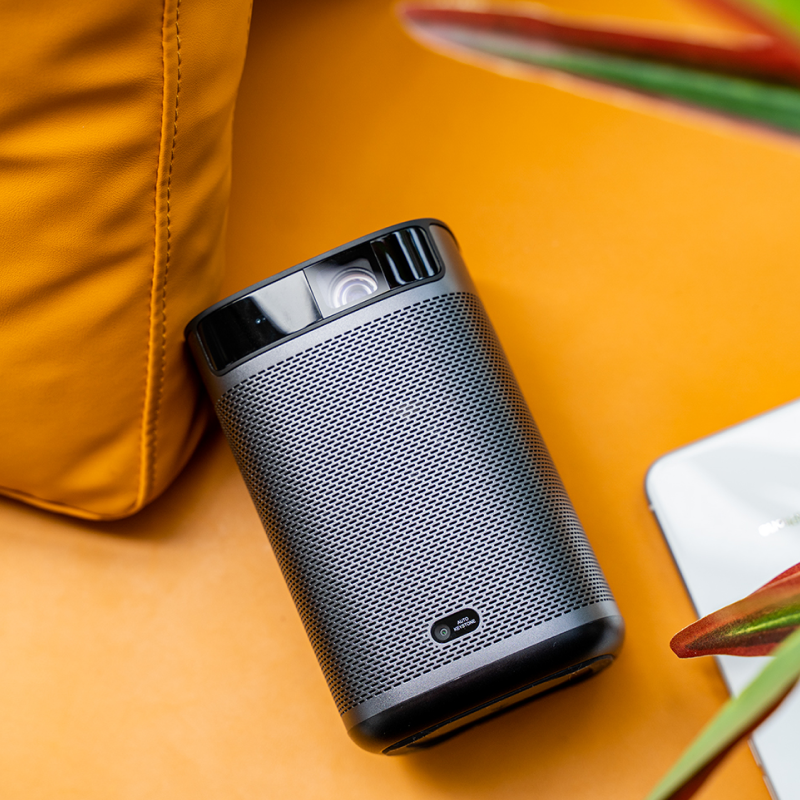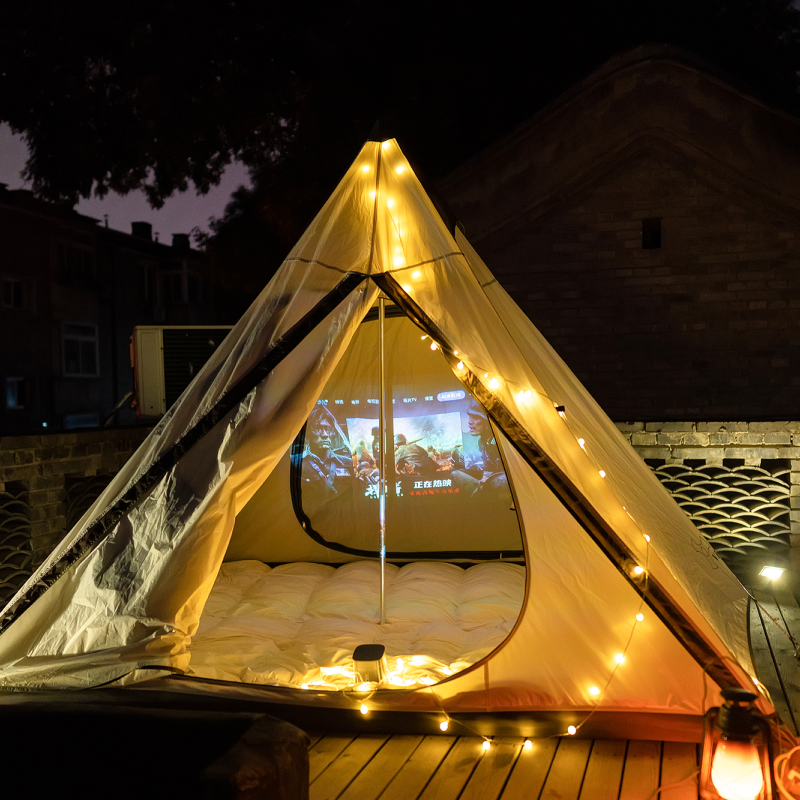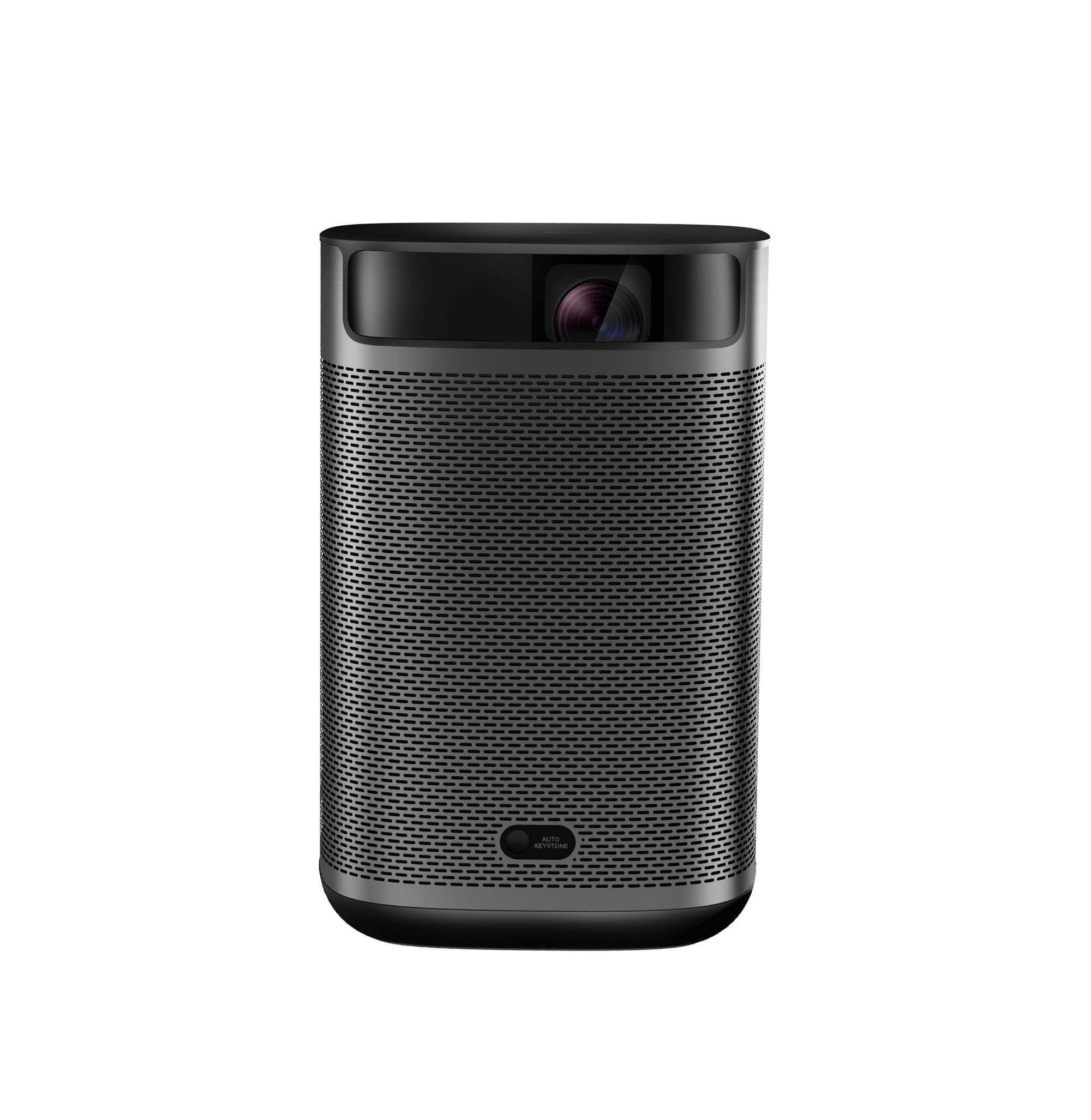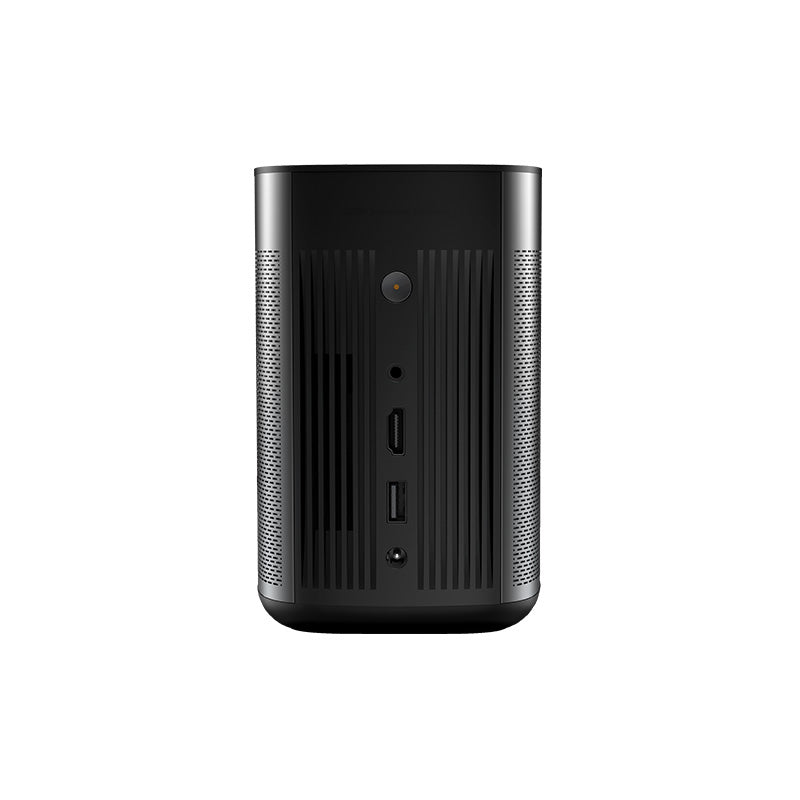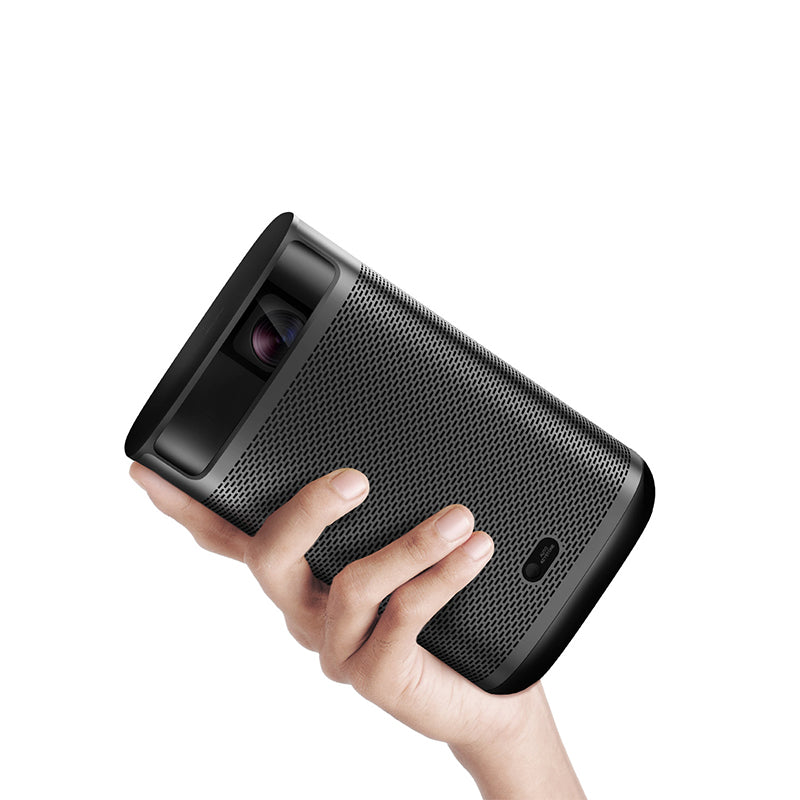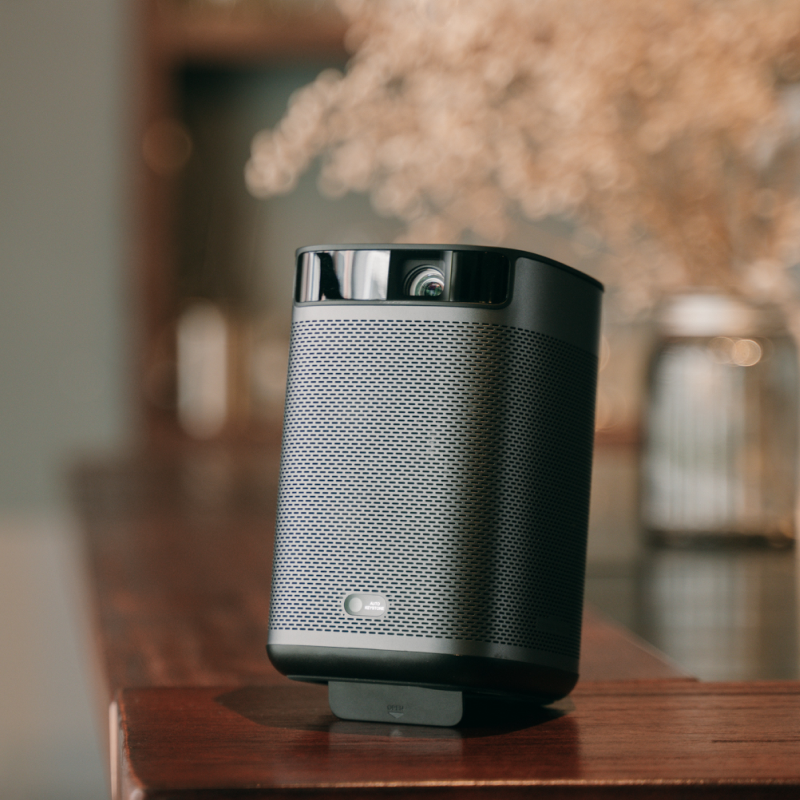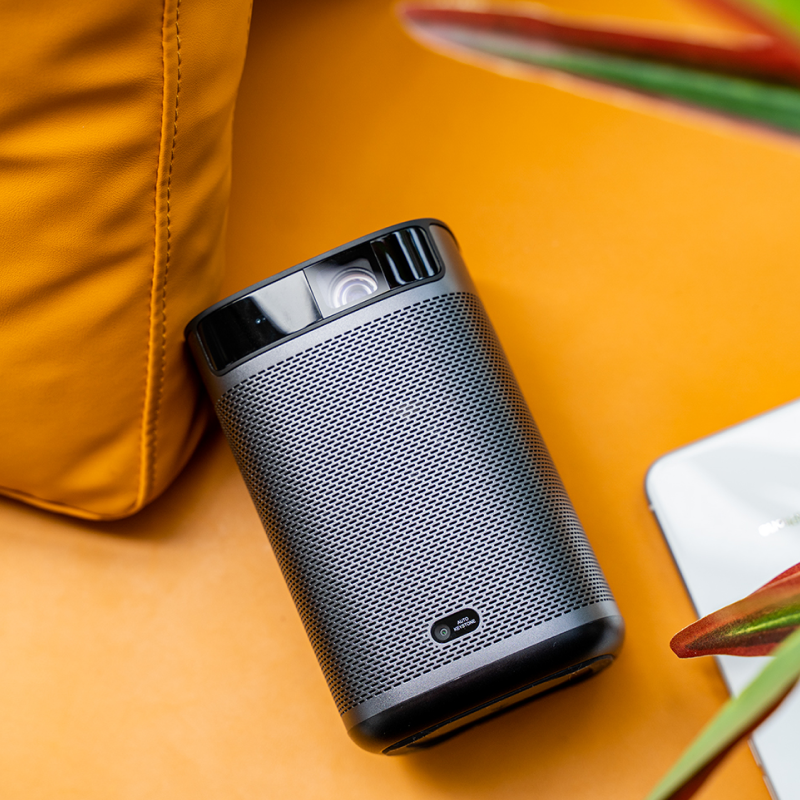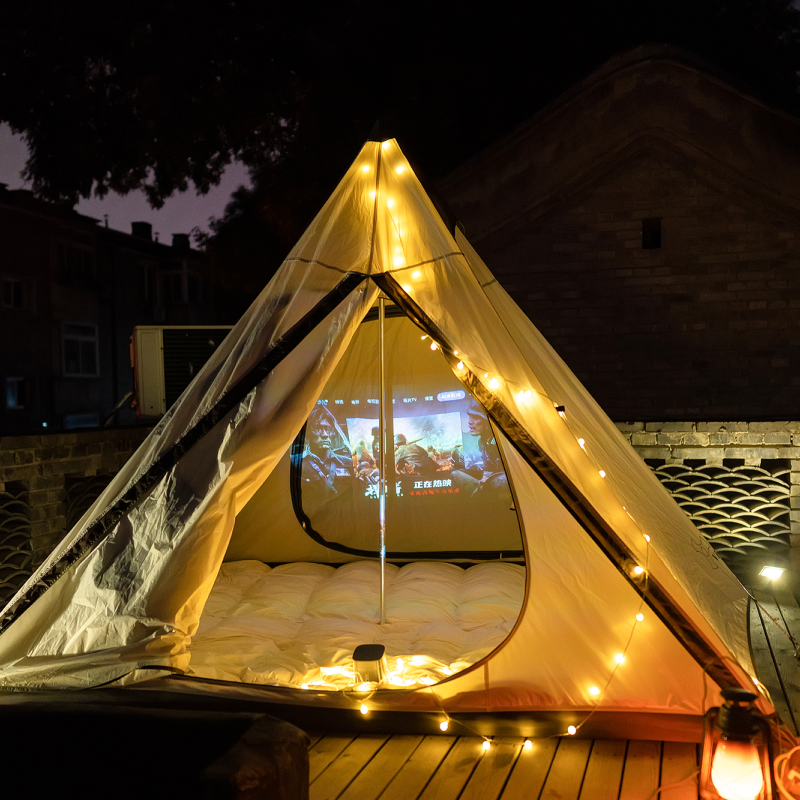 Conclusion
Watching your favorite movies during camping is a fun activity that can leave a good taste in the mouth. Movies are a premium source of entertainment for any age grade, and camping movie nights with friends and family can be truly enjoyable events.
Smart portable projectors have excellent features that deliver enhanced images, great sound, alternative power and content sources, plus the advantage of portability that adds gloss to a camping experience, making them memorable. XGIMI's Halo+ and MoGo Pro+ are excellent camping projector options that can deliver memorable outdoor movie nights.
Get $10 off Your Next Purchase
Join the XGIMI Community Today!